Looking to enter into the world of online reviews and reputation management, but not sure what you're dealing with? Read our handy guide detailing all the key information you need to know.
Online reputation management is an ongoing task which serves to create, cultivate and maintain your brand name and its good standing online. Much like traditional reputation management, it's all about perception.
For online reputation management, that means building a digital public image, one online review at a time, so that anyone searching for your brand finds 5-star reviews and positive customer experiences that paint your company in the best possible light.
Imagine you're the PR for a politician or a rock star. It's your job to keep the bad press to a minimum and grab as much positive media coverage as possible. That might mean burying stories of arrests or trashing hotel rooms by arranging a photo-op, volunteering at an animal shelter or donating toys to a kid's hospital. Quietly leaking 'good' news stories such as charitable donations or work in the local community. That's traditional reputation management.
Online reputation management differs in that you're not courting the press or burying headlines, you're deploying strategies to generate, improve and respond to online reviews customers leave about your small business. Your focus will be on popular review sites like Google My Business, Yelp, Angie's List, and others. Online reputation management typically involves:
Deploying online reputation management software to easily solicit reviews from customers and distribute them to popular online review sites
Adding review schema markup to your website
Being proactive about asking customers to leave online reviews about your business (68% of consumers will leave a local business review when asked to do so)
Responding to both positive and negative reviews to either thank the customer for their great feedback or address the concern
Promoting positive reviews through multiple owned or paid channels (such as sharing on social media, posting on websites, creating banners, including in e-newsletters, paid ads, etc.)
A short history of online reputation management
Building trust and credibility has always been critical to running a successful business but until recently, they weren't things that would form a core part of digital marketing activity. Brand image was the sole preserve of PR experts. The traditional marketing or public relations team would be tasked with building a positive brand image.
Today, online reputation management is as vital as content marketing, paid search and SEO for local businesses. As consumers have migrated to online shopping in place of traditional in-store experiences, the need for positive customer sentiment online has grown.
In our research into the growth of online consumer review sites, we discovered that the point of lift-off was 2012, with Google, Facebook and Yelp all logging tremendous growth in reviews from that year.
BrightLocal first carried out its annual local consumer review survey in 2010 and since then, we have seen a major shift in the way that consumers find and use online reviews. In our latest survey, we discovered that almost every consumer (97%) had used the internet to find a local business in the last 12 months. Online reviews are now a key part of the purchase process.
In the early days, Google allowed only critics to leave reviews, but since then, consumers have also gotten in on the act. Today, 63% of consumers have left an online review for a local business with a further 25% open to the idea of doing so.
Why are online reviews so important to local business?
In the old days, a disgruntled customer would have a somewhat limited audience when it came to sharing news of their negative experience—they might tell their immediate group of family and friends, but widespread dissemination of that verbal review would be extremely unlikely. Not so in the age of the internet.
More than 8 in 10 consumers now trust online reviews as much as personal recommendations—which means that as consumers, we're all conditioned to seek out online reviews before doing business with a new company.
1. They're everywhere
This trust has led to new review sites popping up all the time, fueling the availability of online reviews and giving consumers even more outlets for their opinions and experiences. Reviews as a format have also grown in prominence, and you'll now see star ratings appearing alongside organic search results, in Google Local results (the local pack) and even alongside AdWords paid search ads.
Online reviews are also infiltrating social media and with Facebook now the second most popular reviews and recommendations platform in the world, you don't even have to be proactive about soliciting reviews for consumers to share their opinions of your company.
As a business, you simply can't hide from reviews—they will be displayed about your business online and with so much consumer faith placed in the experiences of both friends and strangers, the upshot is that online reviews can make or break a small business' bottom line.
2. They're a ranking factor
Research carried out in 2017 confirmed that online reviews were an important ranking factor and there was a clear correlation between volume of reviews, responses and number of negative reviews with local search results.
The LocalSEO Guide local ranking factors study concluded,
At a high level, having a keyword you are trying to rank for, and a mention of a city you are working to rank in, in reviews has a high correlation with high ranking Google My Business results.
3. Reviews can improve click-throughs from GMB profiles
Consumers put their faith in online reviews—87% of consumers look for 3-5 star reviews before they will use a local business. If you aren't regularly achieving an average 3-5 star rating or aren't actively soliciting reviews, chances are that those potential customers will look elsewhere.
Once you get your business listed in the Google Local 3-Pack, your positive reviews can actually help with the click-through rate, too: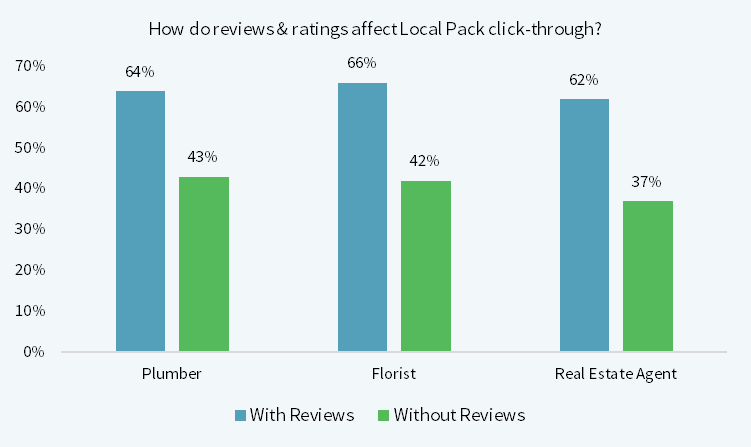 4. Reviews act as social proof
Social media is a crucial part of the consumer purchase process. With so many business pages indexing highly in Google for the business name, it's easy for a shopper to turn to a business' Facebook page to find out more information. Just as they do on review platforms and search engines, Facebook reviews and recommendations act as social proof of the quality of your business.
Social commerce is also on the rise, meaning reviews on social platforms can impact on purchase decisions in other ways, too. A 2017 research report by Open Influence found that 47.7% of US social media users had made their most recent purchase from Facebook.
ViSenze research has also found Facebook to be the primary influencer on purchases made by social media users—meaning great reviews here can also have a positive impact on your small business' bottom line.
5. You can use reviews as trust signals on your site to increase conversions
Your business' reputation is your #1 asset. More than ever, potential customers go online to look at reviews so they can make decisions about which local businesses to patron, which products to purchase or which service to use.
With more than 8 in 10 consumers trusting online reviews as much as a personal recommendation, displaying carefully chosen 5-star reviews on your website emits a strong trust signal and validates their decision to do business with you.
Furthermore, a growing number of consumers read more than 11 reviews before they feel they can trust a business—so the easier the access to reviews you can provide on your owned media channels, the higher the likelihood of conversions.
How to monitor online reviews
The LocalSEOGuide local ranking factor study concluded that the number of reviews responded to (and not responded to), had an impact on local pack positions, but that's not the only reason that you need to have a monitoring and response process in place.
Left unanswered, negative reviews can be hugely detrimental to your online reputation (you can find our tips for responding to negative reviews here). We've also seen how important it is to put 5-star reviews on your own site to act as a conversion optimization tool, so monitoring online reviews is worthwhile on both fronts.
Without using reputation management software, general review sites such as Facebook, Google and Yelp will need to be monitored manually. Facebook will display a notification when a review is received to alert you to the fact that you need to read and respond but other sites, like Google or Yelp won't necessarily provide an alert. You can tackle this in a couple of ways;
Create a Google Alert: a Google Alert is an automatic notification that will arrive in your inbox whenever your company name is mentioned online. You can use this to keep abreast of new reviews.
Conduct brand searches: Conduct a brand search for your company name across Google and Facebook. Be sure to order your Google search to show the ,most recent results first so you aren't constantly trawling through older results to unearth new reviews.
Use Hootsuite: In addition to using Hootsuite to schedule social posts, you can use it to monitor what people are saying about you online. Set up a stream for Facebook, Twitter and any other supported social media networks to show mentions of your brand.
Almost every industry you can think of also has its own dedicated review platform; there's TripAdvisor for the hospitality and tourism industry, Healthgrades for doctors and HomeAdvisor for contractors, along with dozens of other specialist sites.
You may get an automatic notification when a new review has been left, but this is very much dependent on each individual platform. It's very easy to miss key reviews which may be damaging your online business,.
It's often much easier, quicker and more effective to use an online reputation management tool like BrightLocal's Reputation Manager to monitor performance and find out about new reviews, especially if your business is present on lots of review sites or you're managing multiple locations.
Who writes online reviews?
From the first-time reviewer to the serial complainer, the psychology driving consumers to leave online reviews is fascinating. Research by TrustPilot found that there are five categories of people who will leave an online review;
Consumers who want to share their frustration following a negative experience
Consumers who want to praise a company following a great experience
Consumers who want to feel empowered by expressing themselves
Consumers who want to be recognized for their knowledge or taste
Consumers who want to feel part of a community and give something back
While some people will never leave an online review, others will review everything they buy or every business they encounter. Likewise, some consumers are only moved to review when the experience is either particularly good or particularly bad.
When you're tasked with online reputation management, you'll quickly learn that you need to identify the type of reviewer you're dealing with before you leave that all-important response.
You can judge the psychology at play behind the review by the content of the review itself, but you should also check that person's review history. How frequently do they leave reviews? If they have left bad reviews and the business has responded, what was the outcome? Were they receptive to any attempts to make amends or not? Do your research before you dive in with your reply.
What are fake reviews?
As online reviews have grown in importance, so too has the proliferation of fake reviews. With their power to make or break a business and its online reputation, it should come as no surprise that some unscrupulous businesses pay for fake reviews to be posted about rival firms.
Some consumers may also take it upon themselves to leave fake reviews, either to damage or promote a business unfairly. Many businesses are also guilty of giving in to temptation and purchasing fake 5-star reviews to artificially enhance their own online reputation.
The good news is that consumers are increasingly switching on to this practice, with 75% of consumers believing they have read at least one fake review in the last year. 25% believe they have read multiple fake reviews in the last 12 months. The bad news is that it's not always easy to spot a fake review, with 85% saying they can't always pick out the fake review from the genuine.
Identifying and flagging fake online reviews is an important part of reputation management and many review platforms will allow you to log a complaint or flag up reviews you believe are fake. Google wants reviews to accurately reflect the business experience, but at the moment most of the work to identify and remove fake reviews rests in the hands of the businesses themselves.
This is where an online reputation management tool can be invaluable—it can make the process of quickly spotting fake reviews and requesting their removal much easier.
Why Use BrightLocal for Local Business Reputation Management?
Here at BrightLocal we recognize the need for local businesses to have stellar review profiles in order to continue to compete. Online reviews and feedback are becoming much more prominent in search and other areas, so building a trustworthy reputation and keeping that customer love is more important than ever.
That's why we've developed online reputation management tools that allow you or your clients to generate, monitor, and showcase online reviews in a smooth, seamless, and successful way.